FOCAS 2019 - Mali
15 April, 2019 - 16:25
Updated: 29 May, 2019 - 16:37
Monday, August 5, 2019 - 08:00

to

Friday, August 9, 2019 - 18:30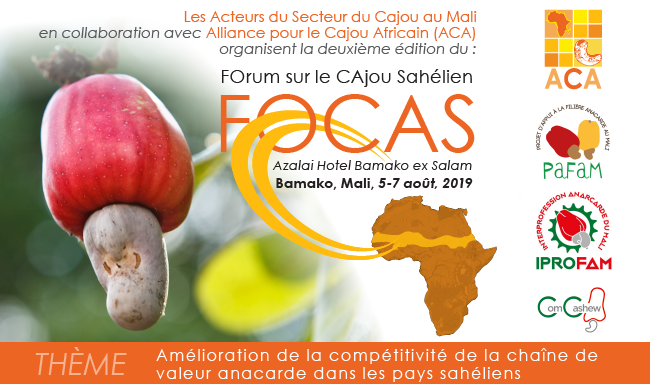 Interested in learning more about the cashew industry in the Sahelian region? Want to engage with Sahelian cashew stakeholders?
Then mark your calendar for a visit to Bamako, Mali on 5-7 August 2019 to attend the Forum sur le Cajou Sahélien (FOCAS). The venue will be the Azalai Hotel Bamako ex Salam. This event will be the 2nd edition of FOCAS after a very successful first edition in Burkina Faso in 2018. This year in collaboration with our Malian stakeholders, ACA is organizing FOCAS under the theme of "Improving Competitiveness of the Cashew Value Chain in the Sahel Countries".
Stakeholders interested in exhibiting their services and products are kindly asked to place a request at the below address. Limited spots available!
ACA and its partners continue to support and work towards a competitive cashew industry in Africa!
For more information on FOCAS 2019 or to sponsor, please contact aca@africancashewalliance.com or call us at +233 302 90 49 51.