ACA joins Cashew Safari 2022, provides expert support
16 March, 2022 - 13:21
The African Cashew Alliance (ACA) joined and provided expert support for the 2022 Cashew Food Safari organized in Ghana on Saturday, 12th March 14, 2022.
The one-day trip started from Accra to Sogakope in the Volta region, back to Tema and ended in Accra.
This was the 11th edition of the annual Ghana Food Safari jointly organized by the Ghana Food Movement and the Jolinaiko Eco Tours with support from the GIZ.
This year's Safari focused on cashew, giving participants a holistic experience of the cashew value chain.
Throughout the journey, ACA experts provided participants with an insight into the cashew industry in Ghana and beyond, the outlook of the cashew market, how the sector is impacting lives and opportunities available in the sector, while also debunking false claims and misconceptions about cashew.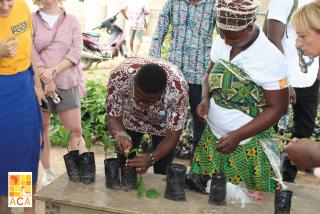 In the Volta region, participants were hosted by the Volta Cashew Ghana Limited, first at the Volta Cashew Nursery in Tefle. At the nursery sight, participants had a feel of what goes into cashew grafting and nursery with demonstrations from Mr. Daps Abimbola and his Volta Cashew team.
From Tefle, participants visited the Volta Cashew farm in Sogakope. At the 50 acres cashew plantation, participants gained an insight into the process of establishing and maintaining a cashew farm, and enjoyed some cashew fruits.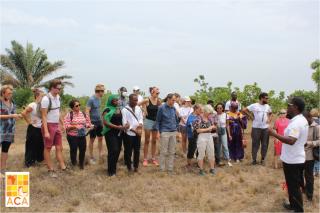 On the farm, there were demonstrations of cashew harvesting, and participants also learned about intercropping and agroforestry.
On the way back to Tema, the safari made a stop at Kassey Ada for a culinary cashew experience with Leila Borges. Participants had a taste of different cashew dishes native to Brazil and Ghana, while also enjoying refined cashew fruit juice.
In Tema, there was a visit to the CWT Commodities. There, while sipping some cashew brandy, participants learned how to remove the kernel from the nut and select good quality nuts that give a farmer a better price. Using the ACA standardisation document, the team at CWT took participants through the step-by-step approach for calculating the kennel outturn ratio (KOR) and nuts quality.
The Responsible, Sector Organization and Partnership at the ACA, Fadel Karimou, believes the Safari was an opportunity for the ACA to educate people and attract potential investors into the sector.
"It was a good experience. To meet and speak to people from different parts of the world on a Safari such as this is refreshing and encouraging. A lot of the participants are potential investors in the cashew sector. So, it was good explaining things to them and letting them know how important cashew is to our continent,'' he said.
Chief Executive Officer (CEO) of Volta Cashew, Daps Abimbola, was glad to host the team, expressing delight that people are getting to know the opportunities cashew is creating.
With the needed support and investment, he believed, the sector will become much bigger and provide more jobs to people, especially women.