Accommodation
The Organizing Committee has identified a selection of hotels for conference attendees. Bus Shuttle services will be provided from these hotels to the conference venue.
Recommended Hotels: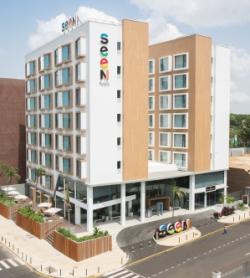 ⭐️⭐️⭐️⭐️SEEN Hotel : Seven minutes (2.5 km) from conference centre
Located in Avenue Lamblin/ Rue Colomb Plateau – Abidjan, Ivory Coast, SEEN Hotel redefines hospitality. Strategically set in the center of the Ivorian capital and offering a panoramic view on the business district of Plateau, Seen Hotel Abidjan Plateau is located at 14 kilometers from the International Félix Houphouët-Boigny airport and just a few meters away from major companies, banks and institutions of the country.
Conference rate for standard room: 85, 000 CFA and 146, 000 CFA for junior suites. For reservation, and to benefit from the special rate, contact us (aca@africancashewalliance.com) for your booking code!
For more information, please contact SEEN Hotel at: + 225 20 00 67 00
info.abidjan@seenhotels.com